Drivers in the market for a new SUV often look at the differences between a 2019 Toyota 4Runner vs. 2019 Jeep Wrangler. To decide which one works best for you, we need to evaluate which one is best based on price, towing capacity, specs, features and options. Let's take an in-depth look at the 4Runner vs Wrangler to determine what will work for you.
2019 Toyota 4Runner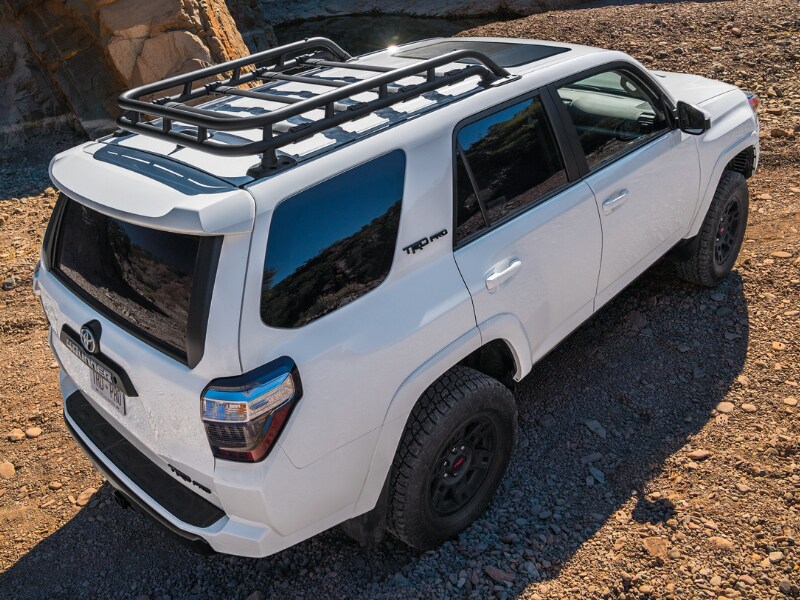 The Toyota 4Runner in 2019 provides ample cargo space and excellent off-road ability. It continues to rank highly in reliability ratings, which proves it is a great family vehicle.
2019 4Runner Price
The 2019 Toyota 4Runner prices begin at $35,310 for the base SR5 model. You can add four-wheel drive to any model for an additional cost. The off-road TRD models come standard with 4WD and starts at $38,485. The highest trim level, the Limited Nightshade 4WD, starts at $47,400.
2019 4Runner Towing Capacity
When properly equipped, the Toyota 4Runner towing capacity reaches up to 5,000 pounds. This is enough to take your boat, camper, or small trailer on the go. The 4Runner clearly out performs the Wrangler SUV from base towing capacity to max towing capacity.
2019 4Runner MPG
With rear-wheel drive, the 4Runner mpg is rated at 17/21. The 4WD model gets 17/20 mpg instead. Where the 4Runner lacks in fuel economy it well makes up for it in terms of raw performance and reliability.
2019 4Runner Interior
The 2019 Toyota 4Runner interior features five seats standard, but there's the option to add a third row which changes that to seven. There is also 47.2 cubic feet of room behind the second row. When that's folded, you have access to 89.7 cubic feet instead. Standard features include a 6.1-inch touch screen, satellite radio, and a 120-volt power outlet.
2019 4Runner Seating Configurations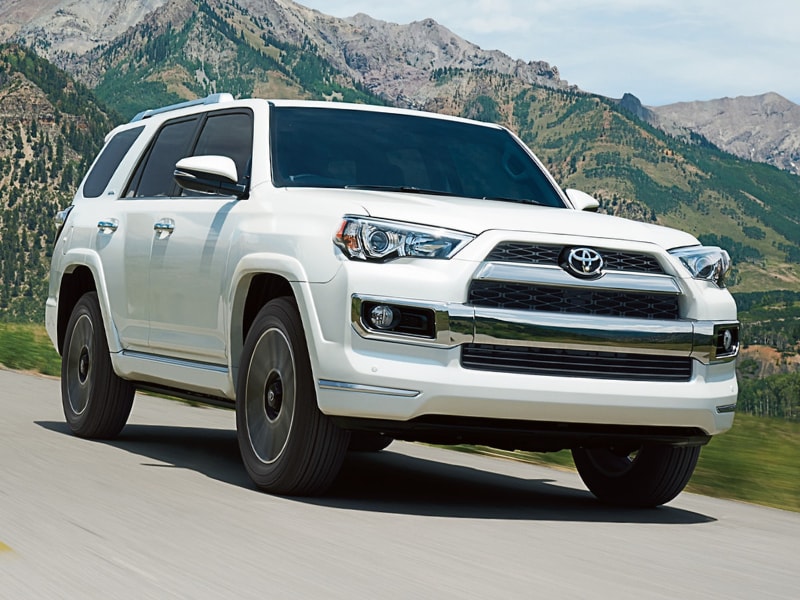 The Toyota 4Runner 3rd row seat does change the cargo capacity slightly. When you opt for the extra passenger room, you only have 9 cubic feet of space behind the seats. Of course, you can still put them down when they aren't in use and increase your room exponentially.
2019 4Runner Specs & Accessories
The Toyota 4Runner specs include one engine, the 4.0-liter V6. This produces 270 horsepower and is paired with a five-speed automatic transmission. Rear-wheel drive comes standard on all models except the TRD where 4WD comes standard, but the four-wheel drive can always be added to any configuration. Some great 4Runner accessories to upgrade your new ride to stand out from other 4Runner models include custom running boards, custom grilles, chrome trims, body kits, off-road bumpers, SUV bed accessories, grille guards, trailer hitches and more.
2019 4Runner Sales & Leases
Save yourself some money and enjoy a Toyota 4Runner lease. You will pay less out of pocket and be able to upgrade to a new model in just a few years. The 2019 4Runner for sale-athon is on now and can be found at Phil Long Toyota for a reasonable price. Stop by to check out the Toyota 4Runner sales happening right now.
2019 Jeep Wrangler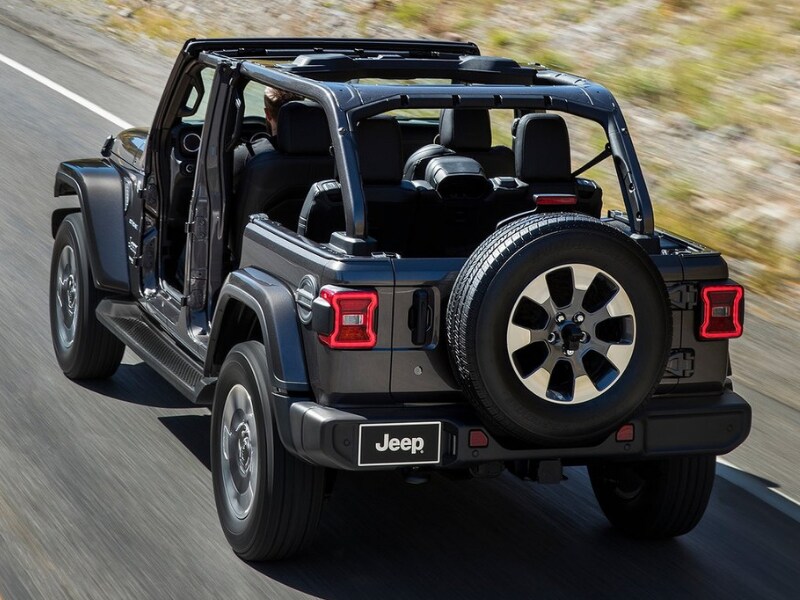 The Jeep Wrangler in 2019 is a great off-road vehicle, but not comfortable as a daily driver. It doesn't feature good gas mileage or high-reliability ratings.
2019 Wrangler Price
The 2019 Jeep Wrangler price begins at about $28,000, which is less than the 4Runner. The Unlimited models will start around $31,000. The highest trim level, the Unlimited Rubicon, starts at $44,545, which is the same cost as many luxury SUV's base prices.
2019 Wrangler Towing Capacity
Depending on how it is equipped, the Jeep Wrangler towing capacity only reaches 2,000 to 3,500 pounds. This doesn't provide as much versatility as the Toyota 4Runner does and is a significant point of the 2019 Toyota 4Runner vs. 2019 Jeep Wrangler comparison that needs to be addressed.
2019 Wrangler MPG
The mpg on a Jeep Wrangler is 18/23 with the base V6 engine. Upgrading to the turbocharged four-cylinder changes those numbers to 23/25 mpg.
2019 Wrangler Interior
The interior in a Jeep Wrangler consists of seating for four people while the Unlimited has room for five. The cargo space measures 13 cubic feet and 47 cubic feet when the seats are folded down. This Jeep comes standard with a 5-inch touch screen, eight-speaker sound system, Bluetooth and a USB port.
2019 Wrangler Seating Configurations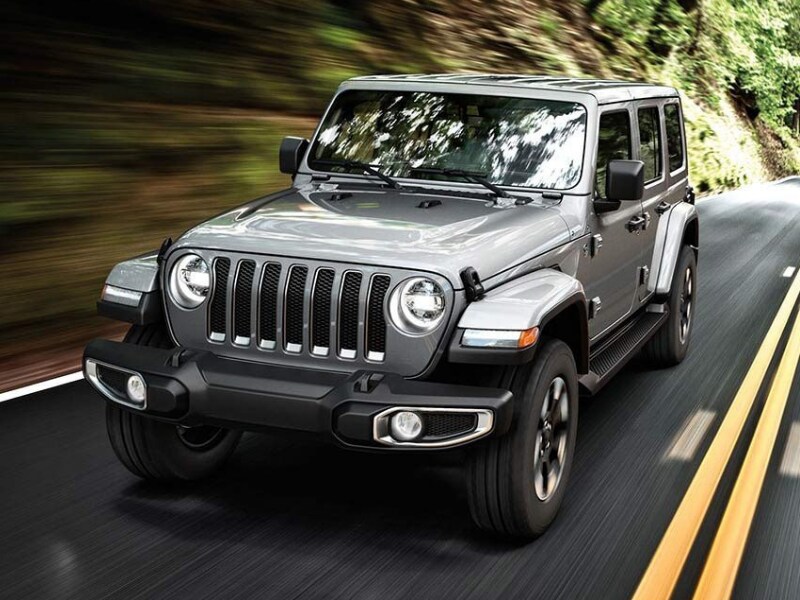 While there isn't a third-row option for this SUV, there is a Jeep 4-Door Wrangler available. This model offers more space with 32 cubic feet behind the rear seats and 72 cubic feet when they are folded down.
2019 Wrangler Specs & Accessories
The 2019 Wrangler has 2 engine options: the 2.0-liter 4-cylinder or the 3.6-liter V6. These engine options produce 270 to 285 horsepower paired with a standard 6-speed manual transmission. The 8-speed automatic transmission is an optional configuration. Every new Wrangler comes standard with 4WD. Part of the fun of owning this iconic SUV is equipping the model with many Wrangler Jeep accessories. From off-road gear to interior upgrades, there's no end to what can be done. Of course, each of these accessories further adds to the price paid.
2019 Wrangler Sales & Leases
With a Jeep Wrangler lease, you also put out less from your bank account and have the ability to upgrade in the future. If you want to find Jeep Wranglers for sale, the 2019 model is at dealerships now. You can choose from a variety of models and trim levels.
Toyota 4Runner or Jeep Wrangler: Who's the Winner?
Depending on what your needs are, it's a personal decision whether the 2019 Toyota 4Runner vs. 2019 Jeep Wrangler will work for you. Obviously, you can get a lower priced Wrangler, but the Toyota model features a higher towing capability, an optional third row and plenty of cargo space. If you plan to tow or need room for more people, the Wrangler simply won't accommodate you. Stop by Phil Long Toyota to lease a new 4Runner in Trinidad today.